---
Jesus Is Lord Over Belcher, Kentucky
---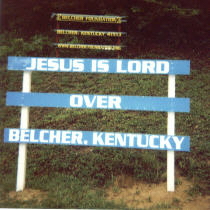 "JESUS IS LORD OVER FRANKLINTON" was the message of the blue and white sign installed near the town limit of Franklinton, Louisiana (near which, incidentally, is a twentieth-century castle called Belcher Castle).
Residents of the town installed their own "Jesus is Lord" signs on their own property, and it was reported that now the signs have spread all across the state--and to other states, as well. "Jesus is Lord" is both a sign of good cheer and an acknowledgment of truth.
The Belcher Foundation at Belcher, Kentucky 41513 (whose national focus includes church and state issues) has decided to install its own blue and white sign reading:


JESUS IS LORD
OVER
BELCHER, KENTUCKY


This sign acknowledges that Jesus is Lord--over Belcher, Kentucky and everywhere else.
The "Jesus is Lord over Belcher, Kentucky" sign, whose cloud-white letters are superimposed upon a heaven-blue background, fits in with the Belcher Foundation's historical focus on America's Christian heritage.
---
For information about the Town of Belcher, Kentucky, log on to:

---
Home - Policy Analysis - Christian Law Library - Christian History Library
Historical Biographies - Belcher Bulletin - Publications - Belcher History Center
About Governor Jonathan Belcher - About the Belcher Foundation - Copyright/Disclaimer - Site Index
---